Collections
Shop for artwork based on themed collections. Each image may be purchased as a canvas print, framed print, metal print, and more! Every purchase comes with a 30-day money-back guarantee.
About Jonelle T McCoy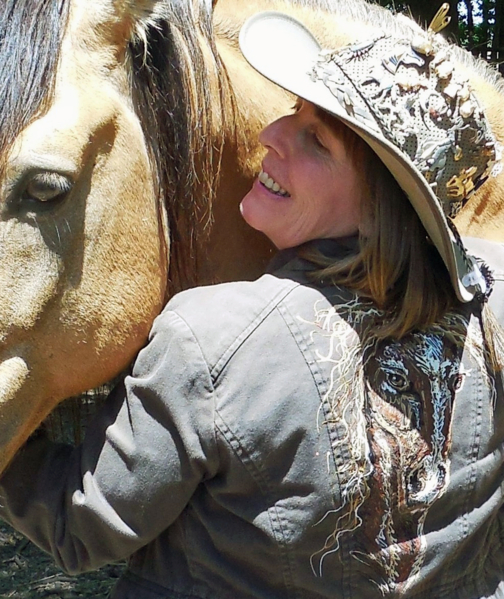 Jonelle McCoy, the artist and creator of the beautiful paintings on McCoy's Gaited Horse Artworks, grew up in Upstate New York where her innate talent to create was evidenced at an early age. She states that her love of animals has always existed, and that they are the main focus of her drawings and paintings. As a child, she even made her own patterns for stuffed animals she sewed. It was her Hungarian great grandfather from whom she inherited her artistic inclination. In her words, " I thank my great granddaddy for passing on the artistic genes to me; he is my guardian angel. His plain gray easel, spotted with his past smears, dots of painting, and little holes from pinning his reference materials to it is what I use; it makes me feel close to him. I still have some of his brushes, well-used, worn-out nubs that they are. One of my prized possessions is his pencil self- portrait. His favorite story told over and over when we visited him was about Van Gogh."


As a teenager, Jonelle took a horse drawing, blew it up by hand on the back wall of her bedroom, and with paints found at home, recreated it there. Jonelle's only formal art education was a class she took at New York State Community College. The rest of her art education was learned "on the job." In the late 80's, she worked at "Adirondack Scenic," a local scenic shop - a job she began as a totally untrained apprentice scenic painter. Adirondack Scenic had many clients, big opera (Chicago and LA), amusement parks (Universal Studios in Florida), huge trade shows, and other live theater sets to name a few.

Jonelle's path continued in Oklahoma where she moved in 1991. After a couple of years in Oklahoma, she landed a job as a scenic painter at Oklahoma City University. On the side, she worked for a company called Silvertree that supplied Six Flags with dance and magic show props and scenery. She also did props and an occasional drop for a local "Event" company. In the mid-90's, Jonelle left Oklahoma City University and became "lead scenic" artist at Silvertree.

Included in her body of works is the movie "Twister," on which she also worked as a scenic artist. She was assigned to the aunt's house in the movie, which was done in Wakita, Oklahoma. She then worked in Guthrie, Oklahoma, on the drive-in theater and garage scene; many may remember that one. The other area of the movie Twister that she worked on was in an airplane hanger in Norman, Oklahoma, where the cave-in floor of the aunt's house was done, as well as the house that the truck drove into and through. Jonelle says of this movie experience that it was a lot of fun, although very demanding with long hours. Today, you will find this artist still at work part-time with "Eventures, Inc."

All during this time, throughout most of her career, Jonelle has always had horses; though she may have started out with quarter horses, she ended up with PASO FINOS! Discovered by chance, this unique and wonderful breed, the Paso Fino, has become the mainstay in her life and in her heart.

Article Submission by Paso Fino Horse Directory (tm)

As of February 2013, I'm pleased to announce I have been juried into Signature Status in the Institution of Equine Artists organization. The initials IEA will be used after my name. I am also a member of CFAI contemporary Fine Artists International, and the AWA American Women Artists.